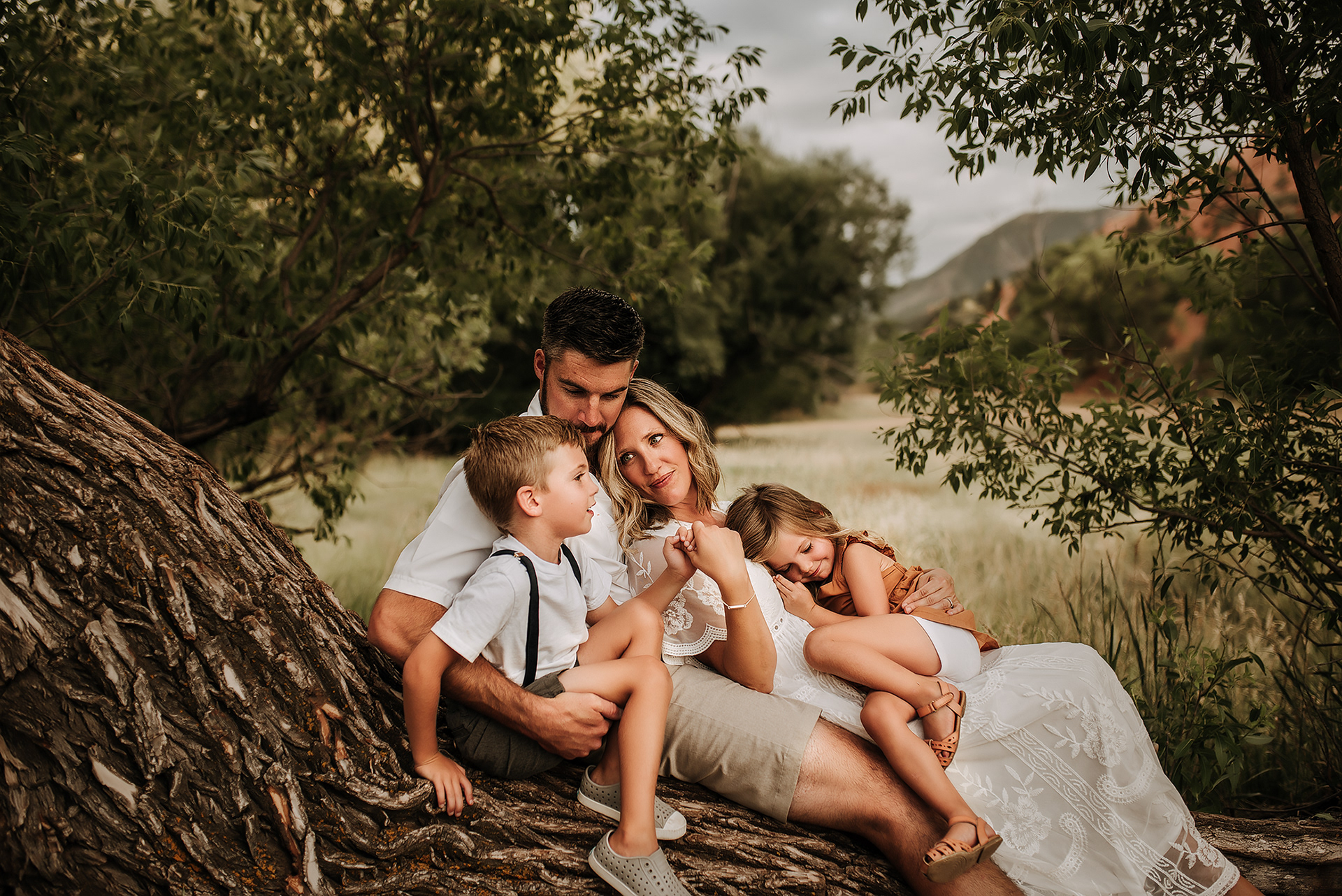 Hi, friend! I'm Alyssum (pronounced Uh-lih-some), and I'm so glad you stopped by. That's me up there with my incredible husband Kenny and two little darlings, Tyler and Lily.  Castle Rock has been home since 2017, but before this we grew up in central New Jersey and also lived in Philadelphia, Milwaukee, and Cleveland. 
Having lived in so many places, I have a fondness of capturing life as it happens. I want to remember the unique scenery as it lays behind the faces my children make when they look at their father. How they run circles around our legs when we just let them be the energetic kids that they are. The way my husband holds my waist close to his when we are taking in the life we've created for our family.
This is why I specialize in emotionally driven lifestyle portraiture. During your family's session, my goal is to capture those wonderful moments that show how your family interacts when you let your cares go and you just enjoy each other. It's what makes you so special, and I believe that every family deserves to have their life documented in a way that reflects their personalities.
Now that you know a little bit about me and why I do what I do the way that I do it, I can't wait to get to know you! It means the world to me that you've chosen to take a peek at my portfolio. I look forward to seeing you and your family soon!
​​​​​​​
Hugs, 
Alyssum


"Alyssum was extremely patient and kind with our little one and took the time to let her warm up and get comfortable. She goes the extra mile to get the shot and was on the floor getting all the best angles while our daughter was covering her studio in cake! ... My daughter can have some serious momma only/stranger danger, which made me fear since the moment we booked that she would just cry and scream the entire shoot. However Alyssum is seriously a baby whisper and remained so calm and patient with us all the entire time! I would absolutely recommend Alyssum to everyone!" - R. Prentner
"This is our second year having Alyssum take our family photos. She is a dream to work with! Every communication is friendly, genuine and efficient. She is well prepared, incredibly nice and happy, and very good at getting everyone in the family to cooperate (if you are like me and have some who don't like to cooperate all the time). I cannot recommend her enough." - H. Ott
"The gallery was so perfect. I get so smiley and teary every time I look through them...thank you seems so trivial for giving us these memories...but thank you!"​​​​​​​​​​​​​​ - K. Slette
"Oh Alyssum! There aren't enough words to adequately describe how talented she truly is! She is always so patient with Emery and captures the love we have for our little girl. Alyssum will be our go-to photographer for years to come." - T. Peterson